You need to first select your workflow (before upload it to the Hub)


Then on the toolbar select View > Description


Finally at your right, a new tab will open. Click on the edit button (top right) and then fill the form.
Click on the save button (top right again) and then you can upload it to the Hub.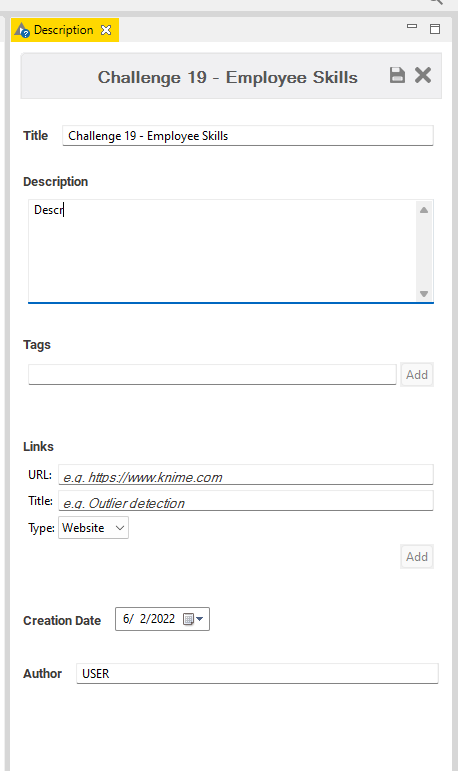 I got pretty much the same for my attempt - pretty straightforward
Knime is a super powerful tool. I remember starting out spending hours and hours trying to get my head around it. When it clicks in your head, it's gold.
This tool saves me countless hours a week doing analysis and reporting.
Good night everyone !
My take on this challenge. The solution was pretty straightforward but I wanted to play around some more with a top-down style dashboard; high level KPIs to a detailed level.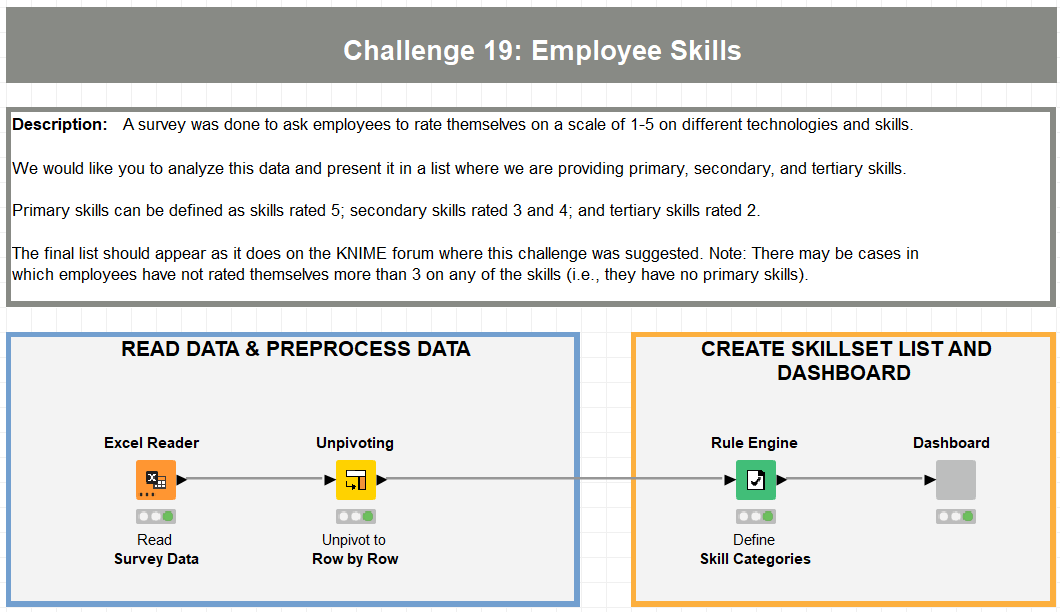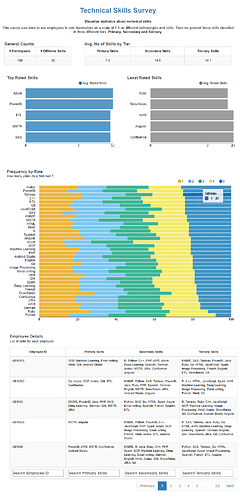 Here is my submission. I tried to do it in as few nodes as possible. The Numeric Binner is a nice tool to use as it categorizes plus provides the column names to use in a pivot.

This is why I like these challenges, looks great! Didn't even know you could build a dashboard view, will definitely use that on my own workflows!
Thank you. I have learned so much. I was not using Pivot/Unpivot and GroupBy nodes in my workflows. But in this challange I've seen perfect use cases

I love these dashboards you've made for some of the challenges. Really beautiful and useful at once!
Don't worry and don't be shy put you throught it, a warm welcome
Thank you very much @victor_palacios !! It means a lot !



Hi knimers,
This
is a slightly different solution. If the task is taken as described in Challenge 19: Employee Skills, solutions with Unpivoting, Rule Engine or Column Expression and GroupBy and Pivoting notes are certainly the right solution.
However, if you follow the link in the description, two methods have to be combined:
Primary skill can be defined as skills rated 5, Secondary skills rated 3 and 4 and tertiary skills are rated 2. The final list should appear like below.
Top three skills as "Primary Skills", Next five skills as "secondary Skills" and next 7 skills as "Tertiary skills". There could be cases where an employee has not rated themselves more than 3 on any of the skill.
Therefore my solution is a bit more complex:


Best regards
Andrew
great to hear that , i am looking forward to learn as muc as i can on kinme and from the community
As always on Tuesdays, here's our solution to last week's challenge.

We're forever in love with the Unpivoting node (in case you haven't noticed it yet haha).

Thanks @Jyotendra for submitting this super cool challenge to our community.


This topic was automatically closed 90 days after the last reply. New replies are no longer allowed.