Hi All,
I am trying to use spark Predictor Regression node for a simple prediction exercise.
In scenario 1
I am using the same spark context for training my data and testing my data using the spark predictor node. And the prediction node runs successfully. In this case I first train the model store the trained model to S3 storage and use the trained model to do Testing/prediction exercise without resetting the spark context .
please refer to image below.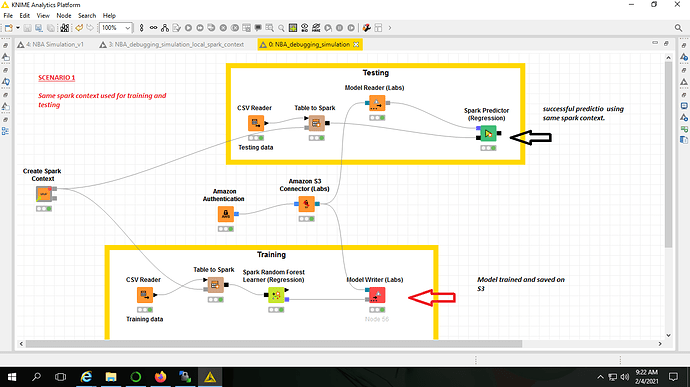 However in Scenario 2:
I am resetting the spark context and trying to only perform prediction/Testing exercise this time. (Note : I am using the model I already trained in scenario 1 and stored on S3 storage) . However this time it prediction node does not run successfully for the same data set. It is coming up with "Execute failed Empty collection (Unsupported operationException)
please refer to image below.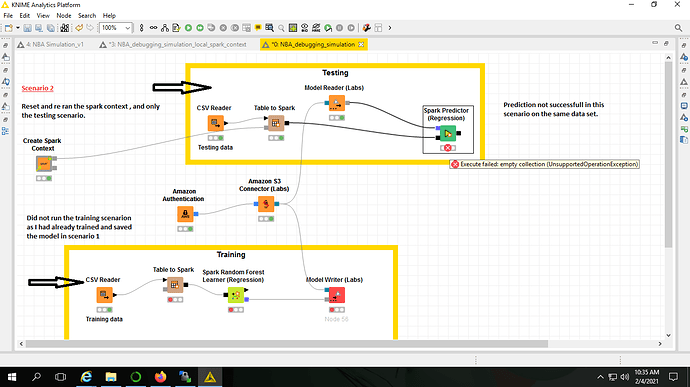 Could some one help me the possible reasoning for why this is happening/how could I resolve this.
Note : I have checked that the training and testing data set follow the same format. (Just to rule out one possible situation for prediction to possibly not work)
Also attaching below a screenshot of my create spark context component I have created using native knime nodes.