Hi, since the change to 4.7 I have some weird behaviour of the DB Nodes (on Mac).
I have an Sqlite table where I have two parameters defined as VARCHAR. One of them is really a text string the other one just looks like a number. Using the new DB connector the mapping seems to be okay and identical in all nodes. However, if I open the DB query reader node it shows the two string fields as Double in the Tables Section Browser. If I execute the node the output is again correct as string. So far this looks strange but it works.
The real problems comes up when I use the Parameterized DB Query Reader. Although it looks as weird as the regular Query Reader node (the mapping is identical) in this case also the output comes out wrong. The one that looks like a number is converted to Double and the actual textstring is also Double and shows only a zero.
I hope the explanation together with the screenshots is clear.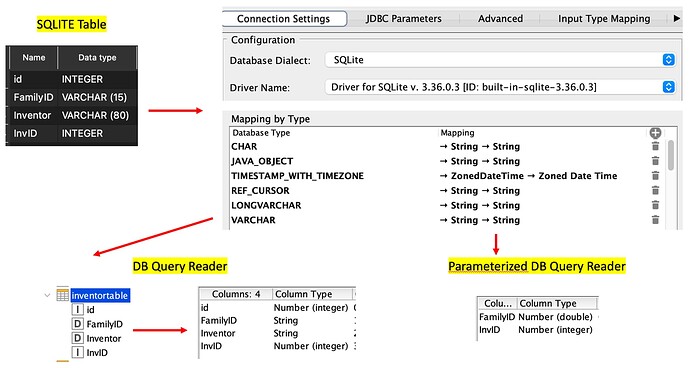 Don't know if this is a bug or just something I have to tweak in the configuration dialog.
Best regards Jerry