Hi lovely all,
I'm trying to convert a string to datetime; after several attempts, it's quite close but still gives me an error.
The original column has string values following the format 28-02-2019 20:22:37 AEDT, and I tried to convert it directly by selecting Date&Time with zone from the New type drop down; however, it gave me an error: Execute failed: Failed to parse date in row 'File0-Row5: Text '' could not be parsed at index 0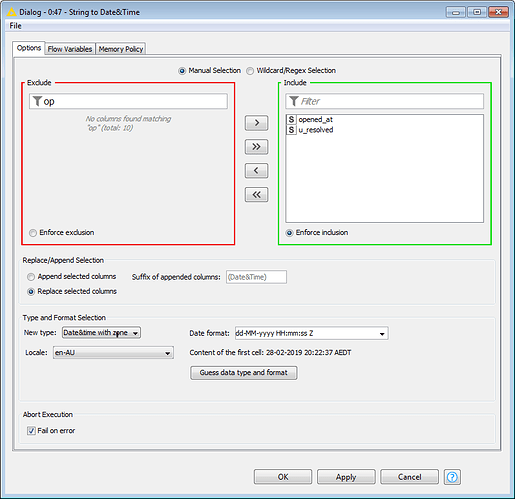 File0-Row5 is my first row and the value is 28-02-2019 20:22:37 AEDT and I have double checked the value, it should not have any leading spaces.
Also, what I actually try to get is a Date&Time column rather then Date&Time with zone, but it seems that I'm not able to select Date&Time from the drop down due to the actual values detected. I know it's possible to use String Manipulation to remove timezone description before converting, just wondering if there's a way to achieve this directly using String to Date&Time.
Thanks and regards,
Olivia