Hello everyone !
I try to find a way to create cohorts. I succesfully classified my data within groups, yet I would like to classify it even more with sub groups.
Data is like this: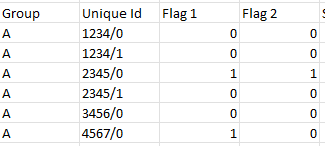 For each group, if Flag1+Flag2 > 0 then I would like to increment the subgroup by one. As it is shown below:

Feels like a temporary variable is a way to do so, something like:
t=1
For i in range 0,number of groups-1
IF Flag1+Flag2 > 0
THEN t=t+1
i=i+1
ELSE
i=i+1
END
but I didn't quite get the implementation right within Knime…
Can you see what I am missing? Or another way to do so?
Thank you