Hello all,
I'm struggling with some procedures all day long, and I almost gave up. That's why I'm here.
I have a 2Million row table that has some information about Revenue, by month, year, etc.
But to illustrate, I will give you this example.
In this case, I have two groups of values that I need to test, in a group of 3, of one of them is less than 50, for example.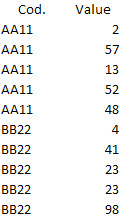 But, in the next iteration, I cannot jump to another set of 3 values, I just need to move 1 row and test the new group again. Like this:


If one of the values is less than 50, in this case, I need to store a cumulative index for each "cod" group and show how many set has a value less than 50. Like this:


Is there a way to get this? Test a chunk of data, but moving row by row, testing each new group?
Any ideas?
Thanks in advance.