Dear all, hoping you are doing well, I want to ask the following question. I haven't been able to find a way to do this exercise in KNIME. I have two columns, ID and Categories, as shown in the example.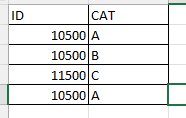 I need to transform them into the format shown in table2.


Has anyone done something similar? Regards.