Hi all.
I managed to successfully run the Guided_Analytics_for_ML_Automation from the HUB examples in my server, in the WebPortal and I would like to run a scheduled workflow in the server that makes use of one of the models that can be downloaded at the end of the execution from the Guided_Analytics_for_ML_Automation. Is this possible? I'm trying to do it but I've encountered a couple of problems
First Problem:
I can run that best model manually by giving it a csv file when prompt, but since I want to run it on a schedule I would have to change it and give it input instead of that csv file, that part is fine, I've tried on the Analytics platform and my Python source code that fetches some data from the Google cloud can give that data to the model and run it. The problem is, if I try to copy and paste the model's workflow into mine with the python source node, it doesn't work because the model workflow can't find the table parameters for the model… I'm not sure what path to set for that node either for it to be able to find it. Or maybe do I have to save my workflow in a specific folder for it to find it?
Second problem:
I have another problem relating to the python source node. I need to read from a couple of files and I would like to create a project folder, have the workflow in it and have a folder there containing the files I need, and read them from there, so I would like to use a relative path. But if I give it a relative path it doesn't work… It only works with absolute local paths, which is a problem because my server won't be able to find my local files. My repository looks like this and my workflow is the "knime_and_google". What kind of relative path would I need to give it to find the json in the aux_files folder?
Edit: After some digging I understand a bit better relative paths and KNIME so I tried this to load the json: knime://knime.workflow/aux_files/knime-project-automl.json in my python code but it doesn't seem to work. However, if I move my json to the workflow, it will create a JSON node and in the path field in the node, this path works… Is this a python problem? Does these relative paths only work on nodes, not on python code? If so, how can I access the path to this json in a server. Cause I really need the path, not the json object itself
Edit 2: I also tried knime://knime-server/auto_ml/Google_communication/aux_files/knime-project-automl.json, didn't work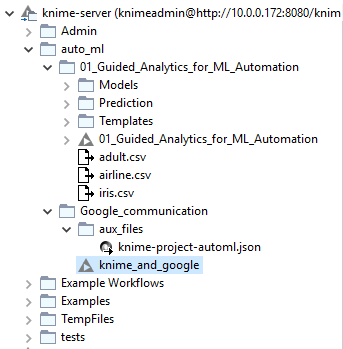 Hope someone can help me with this.