I have created a simple workflow like this:


My desired operation is,
move the target csv file after it have been created by CSV Writer.
But it doesn't work (the file wasn't moved).
the setting of Wait… Node.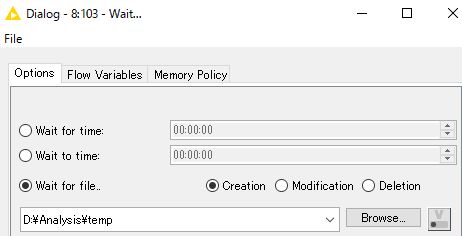 Where is my mistake in this workflow?
Maybe the Wait… Node is not necessary here, but I'm worried about the file will be moved before the CSV Writer finished it's job.
Or maybe just wait for 1 second time will be all right here, but 1 second is too long because I have too many files to be operated so that cause time consuming.
Please let me know if further information is needed.
Thanks in advance.