We've recently upgraded to 4.6.1 and since the upgrade we experience many issues with workflows not being able to open correctly. The error message says: "No such node ID" and causes job not being able to create and even the workflow cannot be opened via the client.
KNIME WebPortal Error:


KNIME Client Error: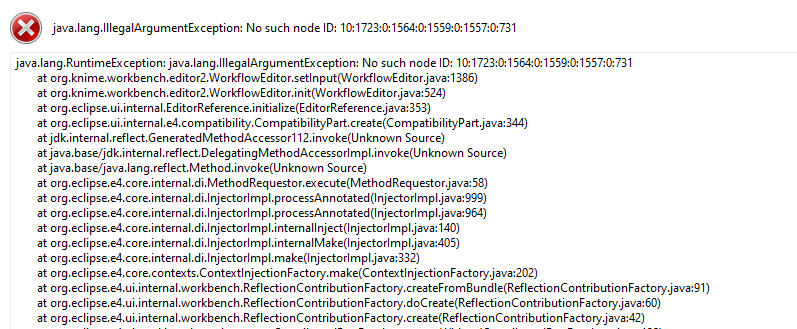 We've never experienced these issues in the past. I believe they are related to updated nodes between 4.5.2 and 4.6.1, where a new node is automatically created (?) and the .knwf is still pointing to an old node instead of the new node.
Whenever the workflow does not open anymore I apply the following workaround:
Export the workflow as .knwf
Import the .knwf file
Re-open and the "No such node ID" error disappears.
Unfortunately this workaround is not always working, as I raise this topic because I found a workflow for which is workaround is not working. This issue is quite urgent as we cannot recover a major workflow on our production server.
Is this a known issue? Is there a fix?
Kind regards,
RKrom