I know that many here (including me) enjoy the challenge of working out workflows, and it's great to be able to help others with resolving a problem. But I thought, since it's the weekend, how about putting up a workflow and asking a question purely for fun.
So here is a puzzle for you. Some may find it easy (if they know), some might find it more challenging.
Attached is a workflow.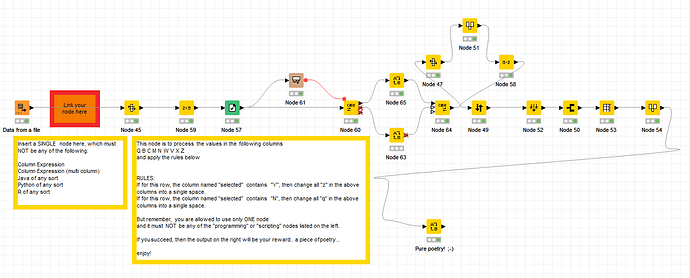 It reads in a CSV file that is supplied in the workflow's data area.
It does (intentionally undocumented) "stuff" to this data, and at the far end it produces a piece of poetry.
But the "stuff" that it does will not work unless some simple rules are applied to the data, as described in the annotations.
Your mission (should you choose to accept it) is to apply those rules in place of the red and orange annotation box.
But… your challenge, is to USE ONLY ONE NODE, and further it MUST NOT BE any of the java/python/R nodes, and it must not be either of the Column Expression nodes.
… off you go…
A fun little puzzle for the weekend.knwf (44.0 KB)