Hello since I am relatively new to KNIME i would ask for your help. I have a table were additional rows with values should be added based on a search. It should look like:

The logic should check if the NAME has the value "8C" if yes then nothing should happen. If the value "8C" is not existing a row should be added with the NAME of that row together with a default "sting" under WERT2 as shown in red in the second screenshot.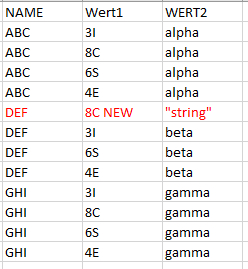 So the logic should check if a NAME has a certain value and if not a new row should be added with that value.
I hope this is understandable.
Thanks for your support.