I've got some empty cells I'd like to fill in. Any row from the continent that already has a date, I want to use it to replace all rows from that continent with the same date. But each date is different depending on the continent.
For example, any row/country from the continent ASIA will get the 12/1/2019 applied to it. Like the picture below, before and after: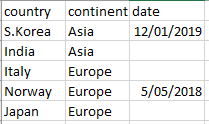 and what I want it to look like afterwards:

Any help is appreciated!!