I am relatively new to Knime and am testing out its stat abilities.
So I was playing with the box plot. Nice and simple to use. Here is data output. In the documentation it says the smallest and largest value (which I refer to as inner fences) are calculated as follows: Q1 - (1.5 * IQR) or Q3 + (1.5 * IQR). So far so good.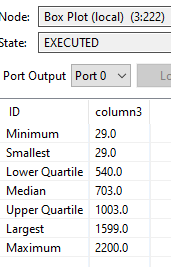 However, when I do my own calculations my values differ. The formula is the same, values are different.
Box plot node computes the largest (upper inner fence) as 1599.
-using its documented formula for the largest
=1003 + (1.5 * (1003-540)) = 1697.5 NOT the reported 1599.
Any insights on why this should be?