I've just experienced an error when I double-clicked a node in the Most frequently used nodes from the Favorite Nodes view. The node added to the workflow successfully while an error dialog displayed as follows: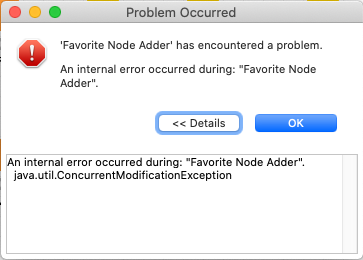 An internal error occurred during: "Favorite Node Adder".
java.util.ConcurrentModificationException
This looks like KNIME tried to add the node I just clicked back to the list of the recently used nodes while the collection was being iterated at the same time. This is an exact situation that usually results in ConcurrentModificationException.