Hello,
I have the below input tables: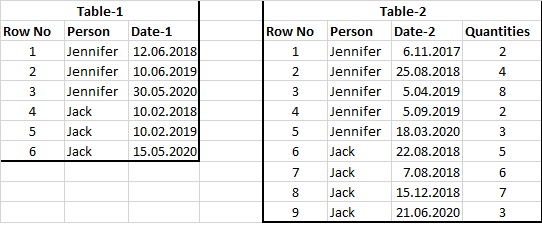 For each person I want to apply the below procedure:
Sum the quantity at the table-2, where the the date-2 is smaller than date-1

For example, Jennifer has the date 10.06.2019 at row2 at the table-1. From table-2 find the rows which are less than 10.06.2019 and sum the all quantities at these rows. For that case, row 1 ,2 and 3 has smaller dates than 10.06.2019. So sum of these quantities are 14.
As a result the output table should be as below:
Workflow is as below:
KNIME_create _table.knwf (6.5 KB)
I will be very glad for any help. Thanks a lot.