Hi there,
After moving to v.4.0 I tried to check out the new nodes, but they seem to be nowhere.
Hi @ribizli,
those nodes are part of the KNIME Machine Learning Interpretability Extension which you can install via Help -> Install new software or simply go to the KNIME Hub (link below) and drag and drop that node into your KNIME Analytics platform.
https://kni.me/n/077yc5YZjtiO1nR0
I tried it and couldn't install the extension through Help > Install new sw. I tried the drag-and-drop solution, pls see atteched screenshot.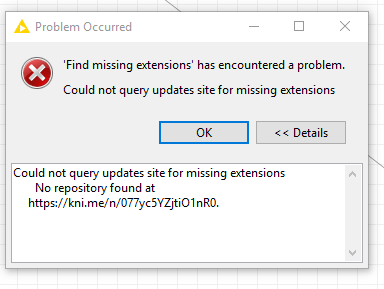 That's interesting. For me it works just fine - both solutions.
@ribizli did you drag and drop the short link? If so please drag and drop the Node below where it says Drag node into … (alternatively you could drag and drop the node icon at the top left)
P.S. Drag and Drop the node into your workflow-(editor)
Hi @ribizli !
A quick question: did you by any chance change your update site configurations in KNIME? You can see those under file > preferences > install/update > available software sites
If by any chance the short link is listed as an update site, you should remove it. Then it should work again.
Please let me know if it helps!
Cheers,
Ana
Thanks ana_ved, this was the problem.
This topic was automatically closed 7 days after the last reply. New replies are no longer allowed.