Hi All,
I am getting following error when I open a view (component with widget, or a simple Box plot etc.):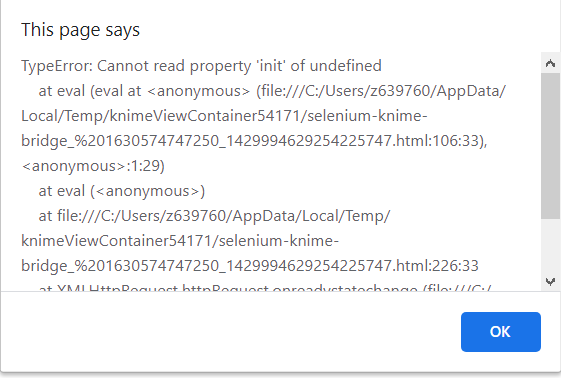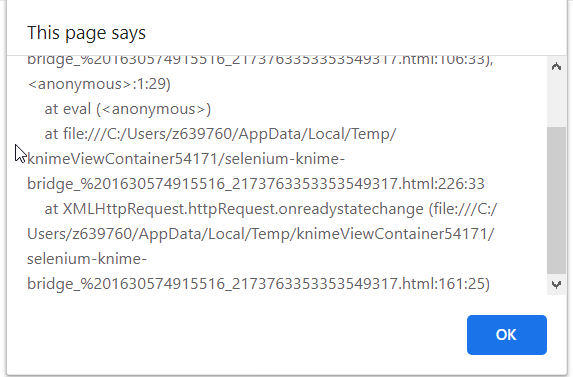 The error occures random and the fix so far is to restart the AP. But the rror will come back after some days or couple of weeks.
Any idea how to fix it permanently?
KNIME Log:
2021-09-02 11:32:30,672 : ERROR : main :  : ChromeWizardNodeView : Line Plot : 10:4107 : Error executing script in view: unexpected alert open: {Alert text : TypeError: Cannot read property 'init' of undefined
    at eval (eval at <anonymous> (file:///C:/Users/user1/AppData/Local/Temp/knimeViewContainer54171/selenium-knime-bridge_%201630574915516_2173763353353549317.html:106:33), <anonymous>:1:29)
    at eval (<anonymous>)
    at file:///C:/Users/user1/AppData/Local/Temp/knimeViewContainer54171/selenium-knime-bridge_%201630574915516_2173763353353549317.html:226:33
    at XMLHttpRequest.httpRequest.onreadystatechange (file:///C:/Users/user1/AppData/Local/Temp/knimeViewContainer54171/selenium-knime-bridge_%201630574915516_2173763353353549317.html:161:25)}
  (Session info: chrome=83.0.4103.116): TypeError: Cannot read property 'init' of undefined
    at eval (eval at <anonymous> (file:///C:/Users/user1/AppData/Local/Temp/knimeViewContainer54171/selenium-knime-bridge_%201630574915516_2173763353353549317.html:106:33), <anonymous>:1:29)
    at eval (<anonymous>)
    at file:///C:/Users/user1/AppData/Local/Temp/knimeViewContainer54171/selenium-knime-bridge_%201630574915516_2173763353353549317.html:226:33
    at XMLHttpRequest.httpRequest.onreadystatechange (file:///C:/Users/user1/AppData/Local/Temp/knimeViewContainer54171/selenium-knime-bridge_%201630574915516_2173763353353549317.html:161:25)
Build info: version: 'unknown', revision: 'unknown', time: 'unknown'
System info: host: 'nithin', ip: '172.27.84.218', os.name: 'Windows 10', os.arch: 'amd64', os.version: '10.0', java.version: '1.8.0_252'
Driver info: org.openqa.selenium.chrome.ChromeDriver
Capabilities {acceptInsecureCerts: false, browserName: chrome, browserVersion: 83.0.4103.116, chrome: {chromedriverVersion: 83.0.4103.39 (ccbf011cb2d2b..., userDataDir: C:\Users\user1\AppData\Lo...}, goog:chromeOptions: {debuggerAddress: localhost:50843}, javascriptEnabled: true, networkConnectionEnabled: false, pageLoadStrategy: normal, platform: WINDOWS, platformName: WINDOWS, proxy: Proxy(), setWindowRect: true, strictFileInteractability: false, timeouts: {implicit: 0, pageLoad: 300000, script: 30000}, unhandledPromptBehavior: ignore, webauthn:virtualAuthenticators: true}
Session ID: d4fc5c2caaf8cf92382967f8a614c5cd
org.openqa.selenium.UnhandledAlertException: unexpected alert open: {Alert text : TypeError: Cannot read property 'init' of undefined
    at eval (eval at <anonymous> (file:///C:/Users/user1/AppData/Local/Temp/knimeViewContainer54171/selenium-knime-bridge_%201630574915516_2173763353353549317.html:106:33), <anonymous>:1:29)
    at eval (<anonymous>)
    at file:///C:/Users/user1/AppData/Local/Temp/knimeViewContainer54171/selenium-knime-bridge_%201630574915516_2173763353353549317.html:226:33
    at XMLHttpRequest.httpRequest.onreadystatechange (file:///C:/Users/user1/AppData/Local/Temp/knimeViewContainer54171/selenium-knime-bridge_%201630574915516_2173763353353549317.html:161:25)}
  (Session info: chrome=83.0.4103.116): TypeError: Cannot read property 'init' of undefined
    at eval (eval at <anonymous> (file:///C:/Users/user1/AppData/Local/Temp/knimeViewContainer54171/selenium-knime-bridge_%201630574915516_2173763353353549317.html:106:33), <anonymous>:1:29)
    at eval (<anonymous>)
    at file:///C:/Users/user1/AppData/Local/Temp/knimeViewContainer54171/selenium-knime-bridge_%201630574915516_2173763353353549317.html:226:33
    at XMLHttpRequest.httpRequest.onreadystatechange (file:///C:/Users/user1/AppData/Local/Temp/knimeViewContainer54171/selenium-knime-bridge_%201630574915516_2173763353353549317.html:161:25)
Build info: version: 'unknown', revision: 'unknown', time: 'unknown'
System info: host: 'nithin', ip: '172.27.84.218', os.name: 'Windows 10', os.arch: 'amd64', os.version: '10.0', java.version: '1.8.0_252'
Driver info: org.openqa.selenium.chrome.ChromeDriver
Capabilities {acceptInsecureCerts: false, browserName: chrome, browserVersion: 83.0.4103.116, chrome: {chromedriverVersion: 83.0.4103.39 (ccbf011cb2d2b..., userDataDir: C:\Users\user1\AppData\Lo...}, goog:chromeOptions: {debuggerAddress: localhost:50843}, javascriptEnabled: true, networkConnectionEnabled: false, pageLoadStrategy: normal, platform: WINDOWS, platformName: WINDOWS, proxy: Proxy(), setWindowRect: true, strictFileInteractability: false, timeouts: {implicit: 0, pageLoad: 300000, script: 30000}, unhandledPromptBehavior: ignore, webauthn:virtualAuthenticators: true}
Session ID: d4fc5c2caaf8cf92382967f8a614c5cd
	at org.openqa.selenium.remote.http.W3CHttpResponseCodec.decode(W3CHttpResponseCodec.java:120)
	at org.openqa.selenium.remote.http.W3CHttpResponseCodec.decode(W3CHttpResponseCodec.java:49)
	at org.openqa.selenium.remote.HttpCommandExecutor.execute(HttpCommandExecutor.java:158)
	at org.openqa.selenium.remote.service.DriverCommandExecutor.execute(DriverCommandExecutor.java:83)
	at org.openqa.selenium.remote.RemoteWebDriver.execute(RemoteWebDriver.java:543)
	at org.openqa.selenium.remote.RemoteWebDriver.executeScript(RemoteWebDriver.java:480)
	at org.knime.ext.seleniumdrivers.multios.ChromeWizardNodeView.executeScript(ChromeWizardNodeView.java:652)
	at org.knime.ext.seleniumdrivers.multios.ChromeWizardNodeView.modelChanged(ChromeWizardNodeView.java:216)
	at org.knime.core.node.AbstractNodeView.callModelChanged(AbstractNodeView.java:151)
	at org.knime.core.node.NodeModel.stateChanged(NodeModel.java:851)
	at org.knime.core.node.NodeModel.setHasContent(NodeModel.java:699)
	at org.knime.core.node.NodeModel.resetModel(NodeModel.java:821)
	at org.knime.core.node.Node.reset(Node.java:1568)
	at org.knime.core.node.workflow.NativeNodeContainer.performReset(NativeNodeContainer.java:579)
	at org.knime.core.node.workflow.SingleNodeContainer.rawReset(SingleNodeContainer.java:461)
	at org.knime.core.node.workflow.WorkflowManager.invokeResetOnSingleNodeContainer(WorkflowManager.java:4839)
	at org.knime.core.node.workflow.WorkflowManager.resetNodeAndSuccessors(WorkflowManager.java:4964)
	at org.knime.core.node.workflow.WorkflowManager.resetAndConfigureNodeAndSuccessors(WorkflowManager.java:5113)
	at org.knime.core.node.workflow.WorkflowManager.resetAndConfigureNode(WorkflowManager.java:5071)
	at org.knime.core.ui.wrapper.WorkflowManagerWrapper.resetAndConfigureNode(WorkflowManagerWrapper.java:290)
	at org.knime.workbench.editor2.actions.ResetAction.runOnNodes(ResetAction.java:164)
	at org.knime.workbench.editor2.actions.AbstractNodeAction.runInSWT(AbstractNodeAction.java:174)
	at org.knime.workbench.editor2.actions.AbstractNodeAction$1.run(AbstractNodeAction.java:160)
	at org.eclipse.swt.widgets.Synchronizer.syncExec(Synchronizer.java:236)
	at org.eclipse.ui.internal.UISynchronizer.syncExec(UISynchronizer.java:133)
	at org.eclipse.swt.widgets.Display.syncExec(Display.java:4561)
	at org.knime.workbench.editor2.actions.AbstractNodeAction.run(AbstractNodeAction.java:157)
	at org.eclipse.jface.action.Action.runWithEvent(Action.java:474)
	at org.eclipse.jface.action.ActionContributionItem.handleWidgetSelection(ActionContributionItem.java:579)
	at org.eclipse.jface.action.ActionContributionItem.lambda$4(ActionContributionItem.java:413)
	at org.eclipse.swt.widgets.EventTable.sendEvent(EventTable.java:89)
	at org.eclipse.swt.widgets.Display.sendEvent(Display.java:4105)
	at org.eclipse.swt.widgets.Widget.sendEvent(Widget.java:1037)
	at org.eclipse.swt.widgets.Display.runDeferredEvents(Display.java:3922)
	at org.eclipse.swt.widgets.Display.readAndDispatch(Display.java:3524)
	at org.eclipse.e4.ui.internal.workbench.swt.PartRenderingEngine$5.run(PartRenderingEngine.java:1160)
	at org.eclipse.core.databinding.observable.Realm.runWithDefault(Realm.java:338)
	at org.eclipse.e4.ui.internal.workbench.swt.PartRenderingEngine.run(PartRenderingEngine.java:1049)
	at org.eclipse.e4.ui.internal.workbench.E4Workbench.createAndRunUI(E4Workbench.java:155)
	at org.eclipse.ui.internal.Workbench.lambda$3(Workbench.java:658)
	at org.eclipse.core.databinding.observable.Realm.runWithDefault(Realm.java:338)
	at org.eclipse.ui.internal.Workbench.createAndRunWorkbench(Workbench.java:557)
	at org.eclipse.ui.PlatformUI.createAndRunWorkbench(PlatformUI.java:154)
	at org.knime.product.rcp.KNIMEApplication.start(KNIMEApplication.java:176)
	at org.eclipse.equinox.internal.app.EclipseAppHandle.run(EclipseAppHandle.java:203)
	at org.eclipse.core.runtime.internal.adaptor.EclipseAppLauncher.runApplication(EclipseAppLauncher.java:137)
	at org.eclipse.core.runtime.internal.adaptor.EclipseAppLauncher.start(EclipseAppLauncher.java:107)
	at org.eclipse.core.runtime.adaptor.EclipseStarter.run(EclipseStarter.java:401)
	at org.eclipse.core.runtime.adaptor.EclipseStarter.run(EclipseStarter.java:255)
	at sun.reflect.NativeMethodAccessorImpl.invoke0(Native Method)
	at sun.reflect.NativeMethodAccessorImpl.invoke(NativeMethodAccessorImpl.java:62)
	at sun.reflect.DelegatingMethodAccessorImpl.invoke(DelegatingMethodAccessorImpl.java:43)
	at java.lang.reflect.Method.invoke(Method.java:498)
	at org.eclipse.equinox.launcher.Main.invokeFramework(Main.java:657)
	at org.eclipse.equinox.launcher.Main.basicRun(Main.java:594)
	at org.eclipse.equinox.launcher.Main.run(Main.java:1447)

Regards,
Nithin