Hello, dear Knimers,
I cannot save a workflow. I receive this message: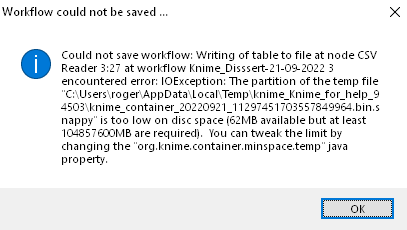 How can I change th size of a 'partition of temp file' ? I wish to change the destination folder, possibly to another partition of my hard disk (E:) (this is where I store my documents), instead of the same partition (c:)
I don't know how to find my
org.knime.container.minspace.temp
in order I could tweak (change the size) of this temp file.
Can someone help me, please?
Rogério.