Hi all!
I have a few months using Knime, I am just not able to think how to resolve my situation.
Imagine 1 report (R1) with some columns but the key ones are:
Customer
Product Name
Vendor
Now, imagine a 2nd report (R2) that contains different columns and also includes the ones I mentioned below (Customer, Product Name, and Vendor)
I need to classify line by line in R1 in 4 scenarios according to this table:


Where Y = Found and N= Not Found
Example: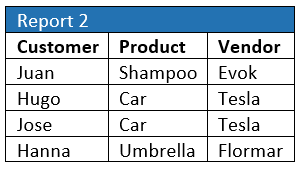 Appreciate any guidance.