Hi All - would appreciate some help for the following:
I currently have the data like this:

And I would like to transform it into this: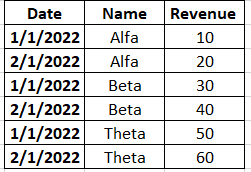 Thing is, also I would like the process to automatically add new dates down the column when I upload a new CSV with new dates in the future. Is that possible with Knime? If so how? I would appreciate all the help possible because I have been trying to do it for 3 days now using grouping and pivoting but I am just stuck.
Thanks in advance!