Hello KNIMErs,
I'm reading in a lot of XML files. I extract the information in the XML nodes with the XPath Node in KNIME. This works fine if all XML files have the same number of XML nodes inside the XML file.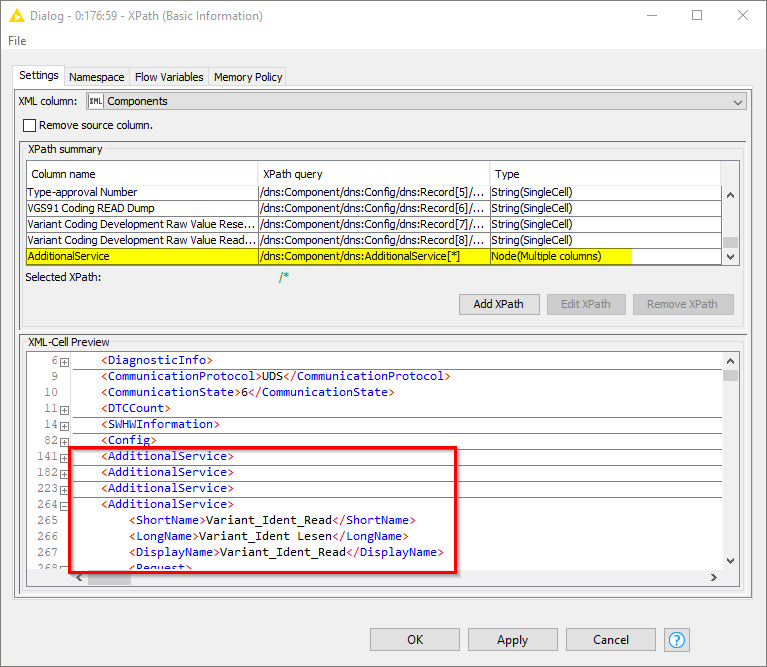 Problem is that in some XML files XML nodes are missing. The result of these missing nodes can be missing values in my output table. That's no problem for the workflow. The problem occures if the number of "AdditionalService" nodes varies (shown in the red frame in the screenshot)
By now I'm knowing 73 "AdditionalService" Nodes. I don't know if in the future new "AdditionalService" Nodes will be added nor if the order of these "AdditionalService" Nodes is always the same.
My idea was to check after each XML file if my XML nodes that are of interest exist. But how? I try the Simple File Reader Node as well as the XML to JSON Node and the JSON to Table Node. Do I need a refernce table which has all the entries I want to extract?
Has anyone of you an idea how to fix this porblem in an elegant way?
Greetings, Brotfahrer