Hi there - recent Alteryx transfer here. I am trying to get accustomed to the equivalent nodes in Knime and had 2 questions related to the "column expressions" node.
In Alteryx, I frequently use the formula tool to create expressions in new columns. In the screenshot below, I created a handful of new columns, and the formulas in succeeding columns reference columns created above within the same tool. For example, the first "hotel_revenue" column created is referenced in formulas further down within the same tool. Is it possible to reference newly created columns in expressions below (within the same column expressions node)? When I create a new column, I cannot see that column when selecting "+ column" for a new expression. If not available, how can you request Knime admins to consider for future releases?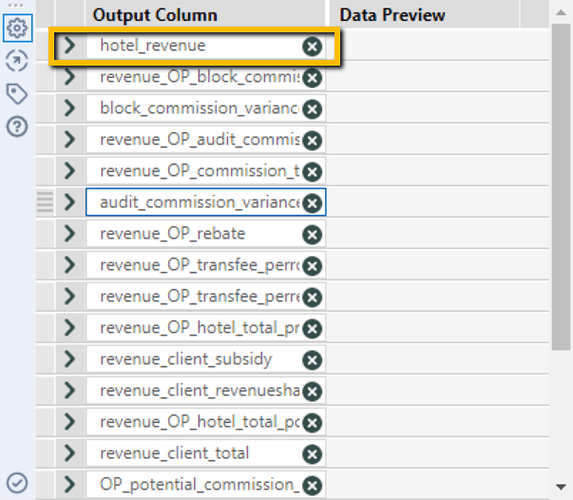 A minor usability feature that seems to be missing in Knime (screenshot below) - When creating formulas in alteryx, I can easily start typing the column name and it will shortlist and autofill when clicking tab to easily select the column for the formula. In Knime, it seems like you have to click the "+ column" dropdown and manually find the column to select. Is there an easier way of doing this? Seems cumbersome to always have to find the column if you have many attributes in your dataset. If not, this would be another simple usability improvement feature to consider for future release.