Hi KNIMErs,
I need some help with dynamically renaming column name inside "Column List Loop Start" loop.
In the attached workflow I am using multiple Math Formula nodes to perform a particular operation on each of the five columns Ret1, Ret2, …, Ret5, the resulting columns are appended to the table as R1, R2,…,R5 respectively.
Subsequently, I tried to repeat the same operation using Math Formula inside Column List Loop Start node and I am able to get the desired operation being performed on all five columns Ret1, Ret2,…, Ret5. However, I am unable to rename the appended columns as R1, R2,…,R5. Therefore, it is resulting in duplicate column names of Ret1 (#1), Ret2 (#1),…,Ret5 (#1).
Is there a way to dynamically name the appended columns inside the loop itself? So that I don't have to manually rename all the duplicate columns again using column rename node.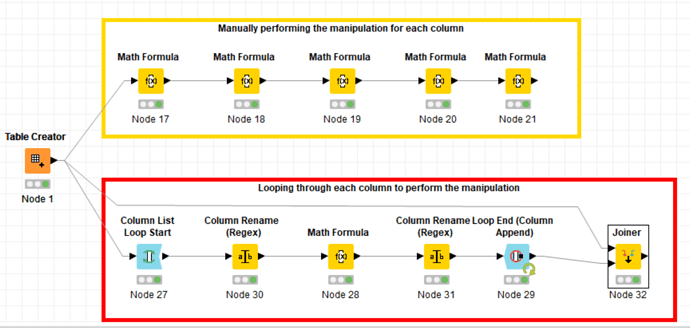 Column_Rename_Inside_Loop.knwf (25.5 KB)