Hello Everyone,
I am trying to achieve something which should be rather simple in Knime but unfortunately I couldn't find a way yet.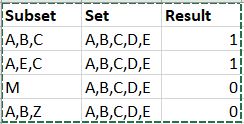 I have one column (subset) with agreggated strings, and I have another column (set) with different aggregated strings. I just want to check whether the (subset) is a part of the (set) or not.
The order of the values inside the subset and the set doesn't matter, I need to take every single value in the subset and check wether it exists in the set or not.
If all members from the subset exists then it is True otherwise it is false.
Can you please tell me how could I achieve that in Knime?
Thanks a lot in advance.