Dear friends,
Long time I had no chance to ask simple questions, but today is the day!
I have a workflow (its not even that important what it is used for. Generally speaking, it collects the data from the local folder, process texts and images (the first and second Component) then in a separate workflow I enrich the data with a set of third-party APIs, later the workflow produces the report customizable in views of later two components.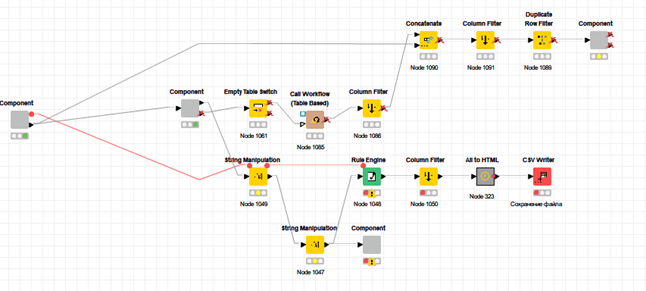 Works perfect to me – I use this workflow rather often. But nothing is too good to be not improved.
I'd like to make this workflow circular to have a chance starting with the very beginning but with the data collected inside the circle. Seemed to be a simple task – I saw that real experts can do with KNIME a kind of magic I don't even hope to understand ever, but nothing can be simpler than just a loop…
It didn't work. Absolutely

The basic reason was obvious – the workflow continues because rows in Table View ones set to "true" are still true at the next loop and the workflow processes the same set of selected values. I tired playing with variables "stopping" the execution of the component, but it also not the right method (or I use it not in the right way).
So, the question is simple:
How to make Component view in a loop and ensure that the next step of the loop is not executed before the user makes a choice?
How to "uncheck" checked rows in the Table View? With a common "Sting manipulation" node?
What's with Call Workflow in a loop? What if I need to address this workflow several times with different inputs and all this happens in a loop? My attempt showed that the workflow doesn't "see" the End loop node if between the Start Loop and End loop nodes there's a Call Workflow node (or ones again I did it not in the right manner).
I'd like to keep the user in the Loop as long as he needs until he checks "proceed further" in appropriate Component view and later work with the data in a new context (workflow).
How do you solve this type of tasks?
Thank you very much for your help and time!