Hello to everybody here,
complete Newbie having a bit trouble with the conversion of the Unixtimestamps to a normal date. My file csv Input file contails Unixtimestamps in seconds like:
1315922016
which i would need to convert into a date like:
20.9.2011 13:43:39
Nothing i could think of my own seemd to be working. Then I found the post here in the forum saying i should use the Date&Timeshift node. When i read in the csv i get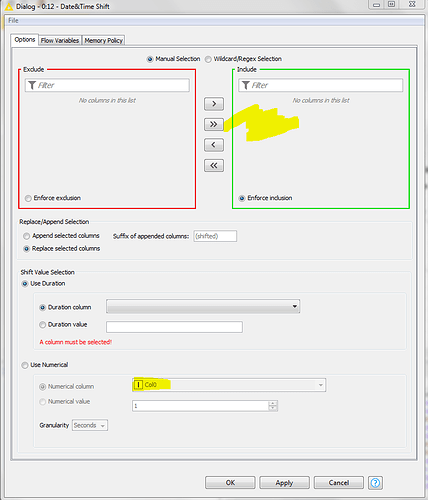 First problem now is, that Col0 is the right column but i can't chose it in the top section (which is a problem i often had while playing around with data a bit), which is quite odd to me. Why can't i chose whichever column i see fit?
When i pick "Use numerical" with granularity "seconds" on the other hand nothing is beeing transformed values stay as they are.
How do i do this right in Knime?
Have a good one!