Hi. I would like to create a simple Component that prompts the user to specify a local folder, then the component saves a .table file to that folder.
I first use the Local File Browser Configuration node to prompt for the folder. Next I use the Create File/Folder Variables node to create a variable that can specify the path of the file to save (i.e. the folder the user specified plus the name of the file and extension). In doing so I use a flow variable from the Configuration node to specify the base folder in the "Create File/Folder Variables" node.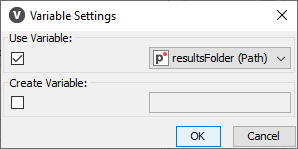 This is where the node produces an error, interpreting the path variable as a connected file system.:

How can I parameterize the node properly? Or am I completely overlooking something? Is there a preferred alternative way to do this?
Thanks
Here's my (unfinished) sample component to illustrate the problem.
save table to user path.knwf
(14.1 KB)