Hi there @paobar61,
As you said it is uncorrelated problem so I moved it to new topic.
Br,
Ivan
That warning is acceptable and unavoidable.
I hope it could be avoidable changing something in the Keys Preferences reported below in the first 2 "conflicting" Ctrl+F rows: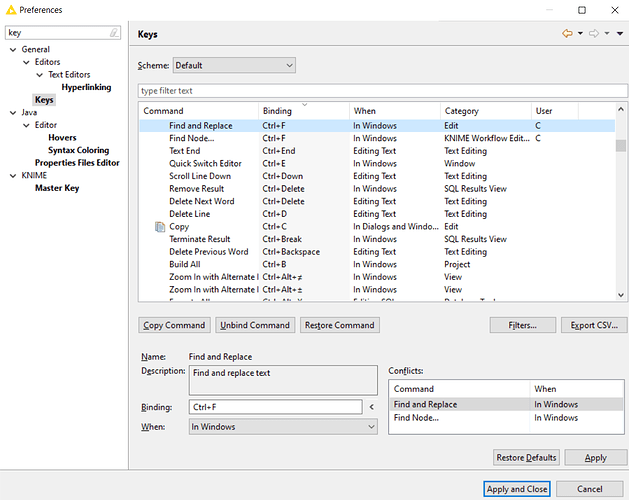 Any suggestion on how-to avoid the warning/solve the problem?
Thank you
PB
I'm sorry - i'm confused. What is the functional problem you're seeing - is it something other than the warning?
Hi there @paobar61,
no problem.
Now regarding to your question. As @quaeler asked is this presenting some some functional problem or if not what is the reason behind it?
Br,
Ivan
Hi @ipazin and @quaeler,
it's not a functional problem, it is only (let me say) an "aesthetical" one:
I don't like to see those 2 Warnings in my Error Log!
If there is a way to avoid them, well, otherwise no problem, I'll continue to use the Clear Log Viewer


Best regards
PB
Ah i see - yes, the aesthetics i understand.
No, there is no way to address this; an Eclipse plugin which we rely on gets first dibs in keybinding and binds to MOD1+F very early on, then a KNIME plugin does (generating the conflict message,) and later on user preferences enter the equation.
The second warning (grid settings) is an unrelated warning and might actually be addressable; i'll file a bug report (though it will probably be of low priority). Internal: AP-13575
This topic was automatically closed 182 days after the last reply. New replies are no longer allowed.