Hello,
I have a question again and hope you can help me.
I would like to have some kind of IF branching after or before the CSV reader.
Basically I would like to choose between 2 branches.
1st branch: IF file found load the data
2nd branch: IF file not found create an empty csv file.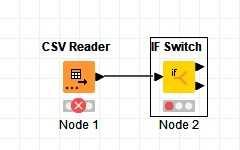 Or you have a completely different idea to solve this case?
I am curious if you have ideas.
Thanks in advance.
BR
Andre