After upgrading to KNIME 4 I started replacing legacy database-related nodes (e.g. Database Connector, Database Reader, Database Writer and the other) with those recommended alternatives such the DB Connector, DB Reader, DB Query Reader.
I keep experiencing an issue that is very severe for me because it prevents me from noticing my workflow failed.
Let's see an example. I nave a DB Connector in my workflow. Let's note it was invoked a considerable time ago. Now it's time for the DB Query Reader. It has changed its state to Invoking, it has marked as invoking (the indicator is moving). But what I can read from the log, it actually failed complaining about I/O Error. 25 minutes ago! But the node keeps indicating visually everything's Okay, the workflow keeps pretending it's working. As we can see, we could stop it's execution right now.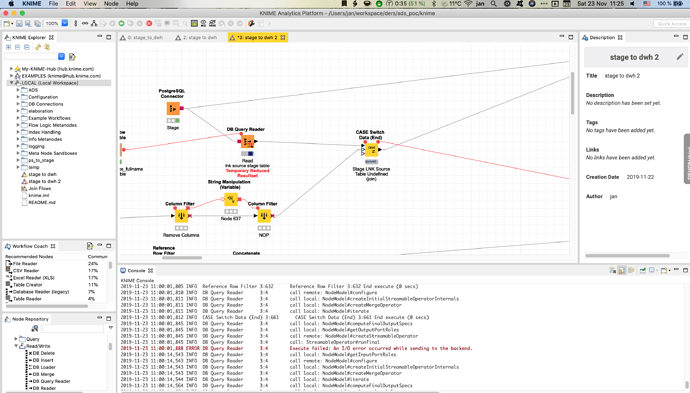 I strongly believe this is the case, I could see the legacy node would state there is not an active connection in the pool (I'm not sure about the exact term for it) and re-connect the database. It is obvious the new generation of DB node have not this ability anymore.
I consider this a severe bug which makes KNIME workflows far from reliable for longer lasting jobs.
Thank you.
Jan