Hi there,
After experiencing sluggish DB Writer behaviour, I have created a simple workflow to test the speed at which a table is written into an MySQL database. The process is very simple. It reads a table from a DB and then writes back a copy of the table.
I have tried both the MySQL Connector and the DB Connector. Here are the processes.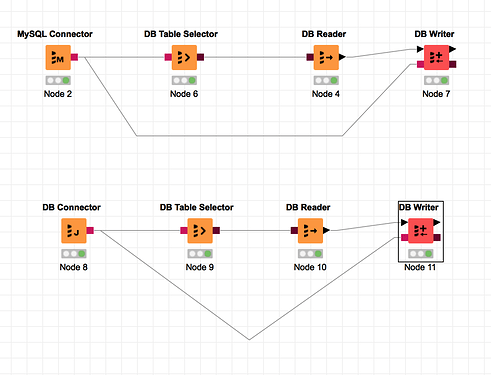 I am on Knime 4.0.2 on an iMac.
The table has 2,200 rows and 11 columns (6 strings, 4 integers and one long). The strings and numbers are small.
The speed by which this table is written to the MySQL database is only 25 rows per second.
Is this what I should expect? If so, is there any reason why this is so slow? And is there a way to speed this up?
I have made no changes to the defaults in the advanced settings of the connector node.
Thanks in advance for your help!
Gilbert