Hi all -
I'm new to KNIME and have been using the tool to expand my analytics capabilities primarily regarding employee data.
I've created several KNIME workflows based on data and insights mentioned in books and articles to familiarize myself with the tool.
I tried creating a Decision Tree to predict employee churn, where the independent variables would predict whether the employee would be Active (A) or Terminated (T) at the end of the year.
After I partition the dataset into 80% train and 20% test sets and run the workflow, the confusion matrix only shows it predicting Active records: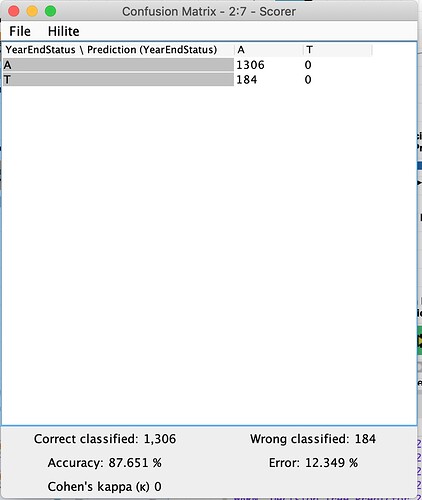 As you can tell, all 184 Terminated employees are being incorrectly predicted to be active at year end.
That makes it difficult to use the predictive capability of the algorithm! LOL
Any thoughts on where I might be going wrong - is it a setting in the Decision Tree Learner node?
Thanks for any insights -
Steve