Dear all,
I am trying to rebuild the steps for a time series analysis with a data set of monthly sales. After preparing the data and applying the Aggregation Granularity node, the table contains three columns, the aggregated time stamp in local date format and the sales numbers in integer format, and the granularity (string). It has 93 rows.
I have set up the Python preferences according to the manual here: KNIME Python Integration Guide
When I connect my data table to the Inspect Seasonality node or Decompose Signal node, the console shows the following error:
ERROR Python Script (1⇒1) (deprecated) 0:20:0:2 Execute failed: invalid syntax (, line 3)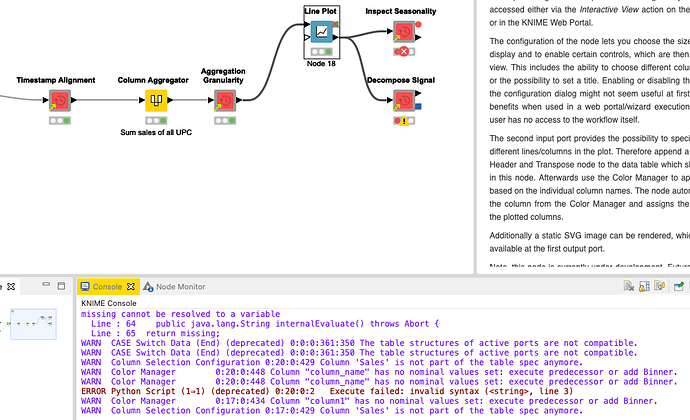 I am not sure how to interpret the error and resolve the issue. Does line 3 refer to my own data table or the underlying Python code of the nodes?
I'm happy for any help or explanation!
Kind regards
Valerie