Hello
I am trying to create a component. This component job is to:
create a directory / folder called 'process' (if it doesn't exist) in the top level (see below).
create a child directory / folder in process (the name will be randomised)
Pass the child directory / folder path out as a flow variable
Inputs: None. Outputs: flow variable: child path.
My KNIME Explorer window looks a bit like this: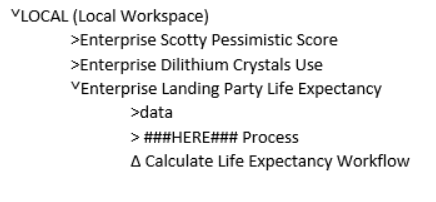 If the component is placed into the Calculate Life Expectancy Workflow I would want it to produce the 'process' folder where it says ###HERE### and child folder within it.
But, the component must work if I placed it in any of the other groups and when I deploy it to the server it must work there too. e.g. if the component is placed in the Enterprise Scotty Pessimistic Score, the process folder would be in the Enterprise Scotty Pessimistic Score group.
I can not figure out a way for KNIME to get the path required to create the process folder and its child folder.
Does anyone have any ideas?
Frank