Hello everyone,
The company I work for started using knime and they are exploring the possibility of getting the server to automate many processes in the organization. I received the following request :
I need to create a flow that downloads csv containing the historical price of an economic index ( MSCI WORLD INDEX) from businessinsider.com.
I've retrieved that type of data from yahoo finance in the past via web query but this site does not enable me to do the same.
It seems there's a way to do it via the "Webpage Retreiver" and "Xpath" nodes but I am not knowledgeable in HTML. I checked all the examples I could find on this forum but none of them are precise enough to compensate for my lack of knowledge in the matter.
there is the information :
website : markets.businessinsider.com
Link to the website page : MSCI World INDEX TODAY | 990100 LIVE TICKER | MSCI World QUOTE & CHART | Markets Insider (businessinsider.com)
I am confident that one example with that precise website would enable me to reproduce the process.
The data I am looking to retrieve in any format lays in this table :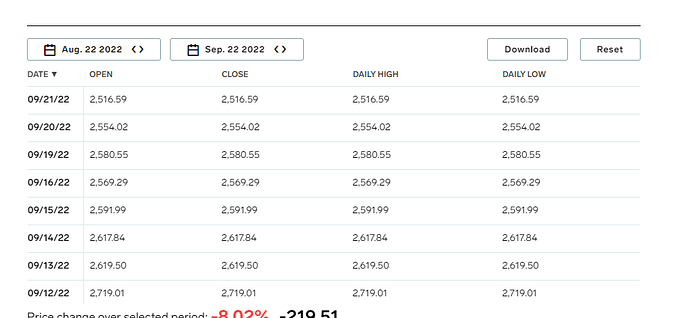 Thanks in advance for reading.