I'm trying to perform some test for understand how to process data from database through spark context. Currently I'm using the experimental node "Create Local Bigdata Environment" node for setting up the spark jobs with the Knime nigtly build.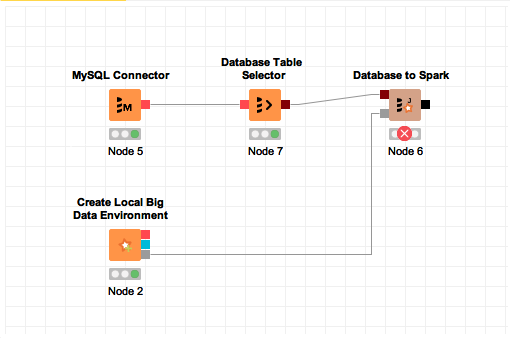 After connecting to a specific database with MySQL Connector, I selected a specific data table with Database table selector node and then I have launched the Database to Spark node. But I have encountered this first issue related to JDBC driver:
ERROR Database to Spark 0:6 Execute failed: Required JDBC driver not found. Enable the 'Upload local JDBC driver' option in the node dialog to upload the required driver files to the cluster.
So, I have checked the "Upload local JDBDC driver" option within the Database to Spark node. And now I got this issue:
ERROR Database to Spark 0:6 Execute failed: Failed to execute Spark job: Illegal character in path at index 19: /Applications/KNIME 3.6.0_2018-03-13_20-00-15.app/Contents/Eclipse/plugins/org.knime.database.connectors_3.6.0.v201801101345/lib/mysql-connector-java-5.1.39-bin.jar
Someone has an idea to how to solve it?
Thanks in advance.
~G