Hi,
I am connected to a postgresql table on a server which has dates. There are about 72M rows in this table. I would like to cut that number down to manageable one by extracting all the rows with year 2022. The date column is in the following format "2018-02-02 14:11:32.180". I have looked at Extract date & field node which is:

I can not connect this node to a the database nodes like: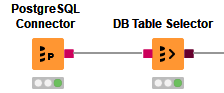 My question, is there a different date extraction node that I can use in this instance when I am connected to a postgresql data base table?
Thanks