Dear Knimers,
Suppose I have a table


and I want to multiply every row with


to obtain


I can think of several ways to do this. Method 1: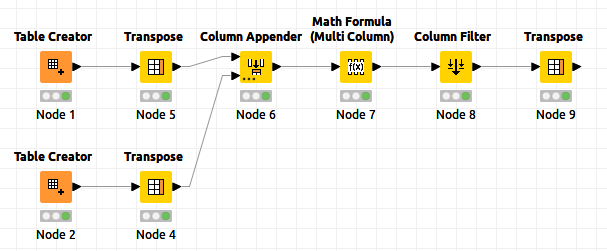 Method 2:


Method 3:


Method 4:


Method 1 has computationally expensive "Transpose" nodes, method 2 has "Unpivoting/Pivoting" nodes that are not much better, method 3 has a Column List loop that slow for large tables, and method 4 is probably the fastest but also the ugliest. None of them are pretty.
To summarize, to my knowledge there is no elegant way to perform this relatively simple operation.
I suggest a "Cross Product Math (Multi Column)" (or, more generally, "Cross Operation Math") node that takes two tables and where mathematical operations can be carried out on the intersection of the Column names (of the numerical columns). The result is a table that has a length of (length of table 1) x (length of table 2).
Best
Aswin