Good morning,
while exploring options to ensure column type consistency across different file formats, I presumably stumbled across a bug in
Steps to reproduce:
Select a file to read
Switch to custom row Delimiter
Remove the input value or provide a wrong one (i.e. multiple characters or to trigger validation
Switch back to regular Line break
Observe the issue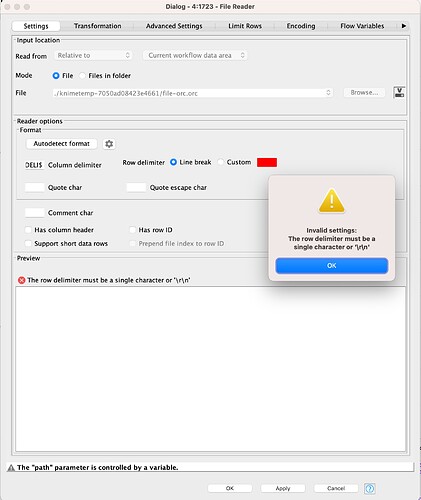 Suggestion
I'd like to propose, which would also enable reading a file w/o any row delimiter (just a single line), to accept an empty value too.
Explanation
Data, especially created, maintained or altered, is likely to face inconsistencies sooner or later. On several occasions I was required, in particular when semi formatted data was handed over, to pre-process it.
Addition
This very likely applies to any other reader node type as well.
Best
Mike