Hi folks,
I have a basic understanding of KNIME but I've gotten a bit stuck on how to implement the following workflow:
I have a column which contains sequential timestamp data in seconds. I have managed to figure out how to calculate the intervals between each timestamp and output it as a new column: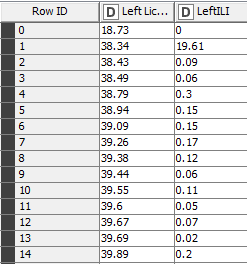 What I would like to do is to then filter my data so that when a time interval that is less than a set filter value (say interval less than or equal to 0.09 but not 0) is encountered, that it removes that timestamp and uses the next sequential timestamp in the next row to recalculate a new interval. If that new interval is greater than the set filter value, it outputs that value then moves on and it checks the next pair in the next row.
I have an excel sheet of the same data that shows what I'm trying to achieve using a knime workflow: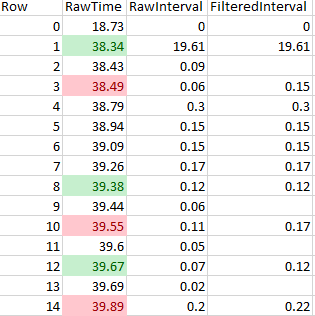 I've highlighted some of the cells in the above example for clarity. When the workflow encounters a raw interval below the filter interval cutoff value, I'd like it it to skip that timestamp and have it calculate the interval without, it using the next timestamp (in the example, the red cell value minus the green cell value). When it encounters several intervals in a row that are below the filter value, like Rows 11-13, I'd like to have the workflow calculate intervals as indicated.
I've been spinning my wheels for a bit, so any insights would be very much appreciated.
Thanks!
Ken
Thanks!