Greetings esteemed Knime lovers - I've run into a conundrum.
Power events from an estate of compute nodes is collected and this data must be used for various functions, this much is not an issue. However, within the data (simplified example shown below) records sometimes show duplicate events (for known good reasons) that mean the time-associated events aren't just "on, off". In some cases, rows will emerge in the data that mark "on, on, on, on, off" events.
To complete a waypoint in my work on this, I need to clean this data back to absolutes, "on, off" and so, for this example data set below, need somehow to remove the rows between the absolutes (marked in red)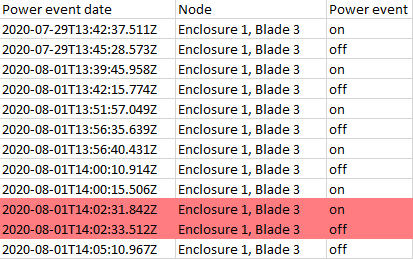 I've looked at the time functions but this is an issue of specific row subtraction based on a cell value in a variable sub-set loosely associated with time and date - I can't fathom it.
Can anyone think of a way to achieve this?
Respectful thanks in advance
GC
.