Hi KNIME community,
I have a simple workflow to import a file. This file is CSV, but it has telephone numbers, possibly with leading zeros. When using the CSV Reader node, this column is automatically labelled as Integer or Double and the leading zeros disappear. Therefore, I want to use the File Reader node, as it allows me to choose the string format for all columns.
Now the files I need to import always have a date stamp and I don't want to change the file name every time. Therefore, I created this:

The first node finds the file in the folder, using a wildcard where the date stamp is. Result:
The second node makes this into a Flow Variable:

The problem is that when I want to select the Flow Variable in the File Reader step, it doesn't show up. (But I can find the file using the static approach.)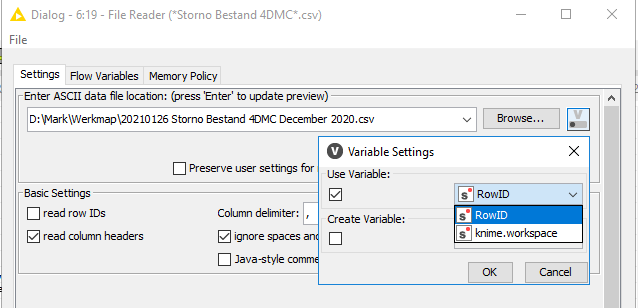 Funnily enough, when I use the CSV reader, the Flow Variable DOES show. I have no clue why.

Who can help me 'find' my Flow Variable? Yes, I've read other topics, but most of them are about CSV reader and not File Reader. Your help is highly appreciated!