Hi, KNIME beginner here and I really need your help please!

I am wondering if we are able to push values through flow variables into a Table Creator node so that we can input mapping data from there.
Say I have a list of data set that has multiple and duplicated value for "Seasons".
This list can contain typos and incorrect data that I would need to amend.

I used the Groupby node to find all Unique values of "Seasons" within this dataset.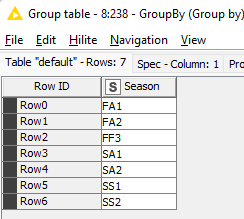 I was wondering if there is a way in KNIME to auto populate Table Creator node with this set of unique values from the Groupby Node.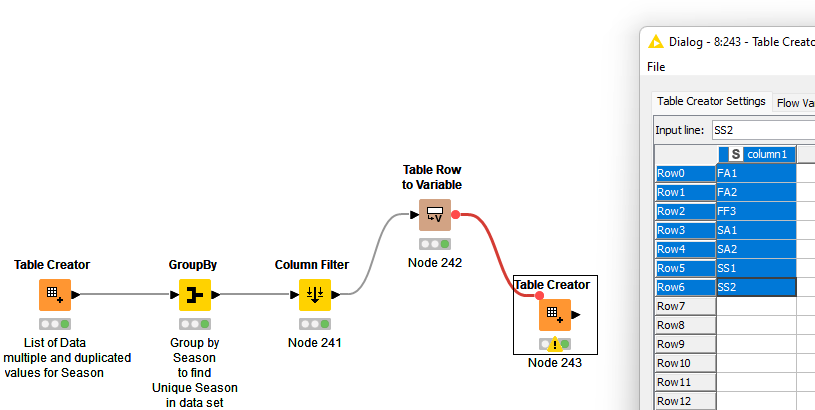 What I am ultimately trying to achieve is that I could push the unique values into Table Creator to which user can then manually input a mapping table according to the unique values that was found in the dataset.
Example: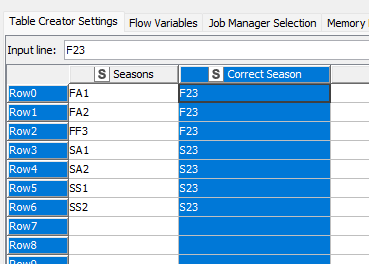 My issue is that there are many errors within the dataset and I cannot be certain what kind of typo errors can occur and therefore the mapping will be different every clean.
So if there is a way for KNIME to auto populate the table creator node with the current unique values per this current dataset, it would help the user do a "replace all" appropriate to this dataset (that may be different month on month).
Please send some help!!!
Appreciate yall!
Thank you!