Updated
Hi everyone,
Just couldn't sleep last night so decided to do something in KNIME.
I've built a workflow (contains Selenium nodes) in which users are scored and ranked based on received likes, replies and like per reply (rate):

Score metanode: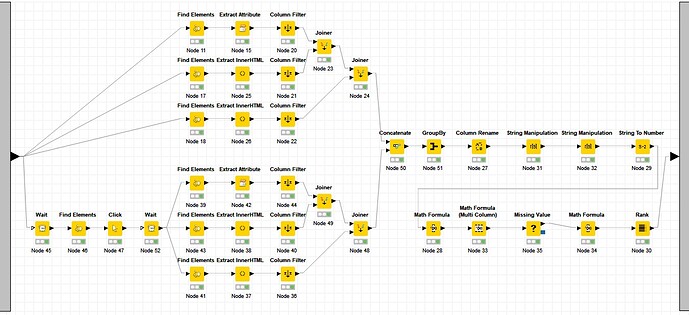 I invented a system of scoring: All 3 parameters (likes, replies and the rate) are multiplied by a factor which is calculated by dividing 100 to the max value of the parameter in each period and the score is the sum of these 3 values. This way all the scores in all periods are comparable and all parameters have the same weight (true weight).
Here is the workflow (Updated*):
Forum User Ranking.knwf (83.1 KB)
I filtered the top 10 users for each period and here is the output (Updated January 17th at 3:30 PM UTC):

Maybe such a ranking will encourage users to be even more active.

Congrats to @Iris, @mlauber71 and @gab1one the top 3 forum users of all time!

Best,
Armin
* I applied a few improvements to the workflow:
Now the workflow takes the top 50 users in the "Replied" field as well. (previously it was taking only the top 50 in the "Likes Received" field)

A "Missing Value" node is added to convert the missing values for rate column (when the number of replies are zero) to zero. So now if the user has a few likes but no replies, he/she still gets the score.

The total scores are now divided by 3. So the scores now scale from 0 to 100 and can be compared easier. When I say the scores are comparable: For example when @mlauber71 has the score of 69 in the month field and @armingrudd has the score of 61 in the quarter field, it means @mlauber71 has done better in this month than @armingrudd in this quarter.