Hello my friends, long time no see :))
I can't find this element in Find Element node.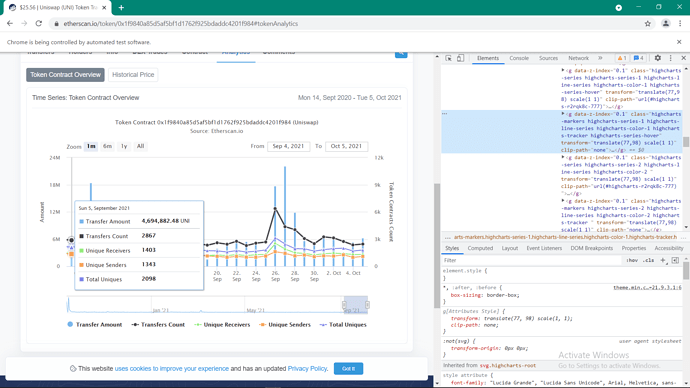 Link : https://etherscan.io/token/0x1f9840a85d5af5bf1d1762f925bdaddc4201f984#tokenAnalytics
Hi Mehrdad,
two things:
(1) The g element belongs to an SVG. I remember having used Find Element for inlined SVGs in the past and it worked for me. If you're currently using XPath, maybe give a CSS selector a try.
(2) The SVG is placed in an Iframe, thus you need to navigate into that Iframe first using the Frame node.
Does this help?
–Philipp
Yes, it was the exact answer. Thank you Philipp.
Hi Phillipp, can you tell me how I can find the element of this information table?
It pops up when I move the pointer to the elements on the chart but I can't find or select it in inspect.
Br
This topic was automatically closed 7 days after the last reply. New replies are no longer allowed.