I have this weird thing happening -
I have previous workflows that I were moved or deleted that show up as only their names as empty WE group in the Explorer (not matter if they previously were a workflow or group).
This happened a while back after I installed Knime on a new PC and moved my workflows to said PC and then directed the Workspace to this folder.
It looks like this: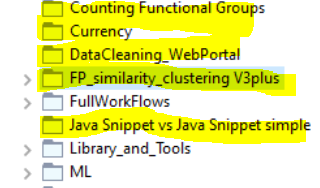 The yellow highlighted are such mentioned "ghost" folders.
No matter if I delete them here or directly on the disc, every time I start up Knime, they reappear.
Deletion of other workflows or folders though works as intended.
There is a second bug as well, maybe in this context: Sometimes ("irreproducible"(?)) I start up Knime and not all workflows are shown in the Explorer, or if, then as empty groups. Restarting Knime fixes this.
I believe this happened with Knime V4.
Currently I have V4.0.2 on Windows 10.