Hello there,
I am struggling a lot with Try-Catch Error nodes. I just want to pass the input of the first variable port if the execution of the top branch is ok, as the node description states :
This node forwards the input from the first port if the execution wassuccessful. If execution on the top branch failed (and a matching trynode was connected before the failing node!) then the input from thesecond port will be forwarded and the second variable outport will containinformation about the observed error.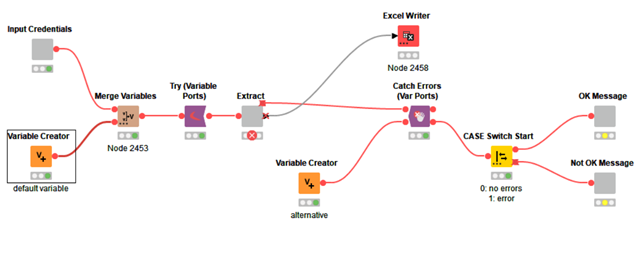 default variable = 0
alternative = 1
Catch Errors node outputs are (output and failure) perfectly identical :

So the _error_caught is always 0 and the switch is moving always to the above port, making Try-Catch useless.
Why the propagated variable value is always the same - the variable value propagated through the top branch - even if the top branch fails ??? Am I missing something or it's a Knime (4.5.1) bug ?
I know there could be workarounds but I am really interested in understanding why it is not working according to Knime official description.
Please, do not suggest me further examples/documentations (I already try that way).
Many Thanks !