KNIME V4.0.1
Windows 10, 64 bit
32G RAM
-xMx16384m
I'm suffering from JAVA Heap exhaustion which appears to occur after a period of time when performing a series of operations. I can't pin it down exactly as it sometimes occurs when performing Joins, Splits, Filters, and other table operations. The only common theme appears to be when the workflow has several branches which may execute at the same time, though I have also had a heap exhaustion when these branches are concatenated and there was a subsequent row splitting operation.
It does not appear as a total freeze (though the UI will freeze intermittently) but a lack of resources leading to very slow execution (see attached thread dump shows the worker thread still running). You can see the heap exhaustion and lack of garbage collection in the attached monitor charts. After an extended period of time KNIME tends to crash, once the GC can no longer free up memory.
Any help would be appreciated. I have tried to identify a workflow to demonstrate this, but lack a bit of time at the moment due to deadline pressure.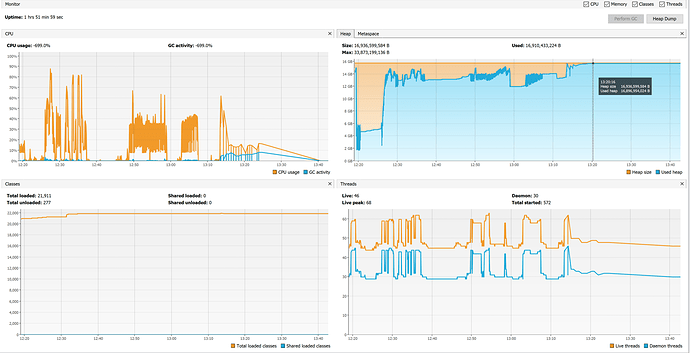 threaddump-1566563314274.txt (43.1 KB)