Have you ever tried to access your Dropbox folders and files from KNIME? A huge hassle isn't it? Shall you make your files publicly accessible? Shall you download them via web site? Or maybe via Dropbox client? How do you upload files at all? Urgh! We feel your pain!
Say hello to Dropbox Nodes!
We've got great news for you: Team NodePit – along with the creators of Palladian and Selenium Nodes – is thrilled to announce the release of the new and free Dropbox Nodes for KNIME.
The Dropbox Nodes for KNIME let you easily bridge the gap between your Dropbox and your KNIME Analytics Platform. It has never been so easy to list, download, upload, delete, and rename files or folders in your Dropbox directly from the KNIME platform, whether it's your personal or team's Dropbox. Use these nodes standalone or let them be a perfect companion if you run workflows in an automated manner. But more on this soon.
The development of these nodes was sponsored by Fluorochem Ltd. Thank you for allowing us to make them available for free to the KNIME and NodePit community!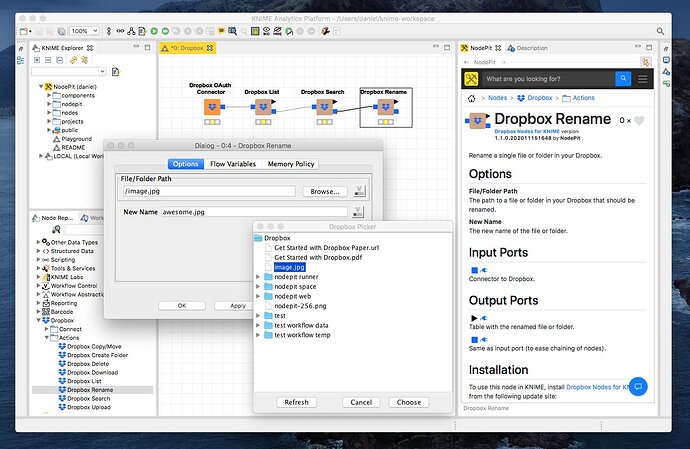 What's in it for you?
Nodes, nodes, nodes: 12 new nodes for connecting KNIME to your Dropbox, listing, uploading and downloading files and folders, and doing basic operations such as renaming, moving or deleting.
Support for OAuth: No need to manage access tokens or make your files publicly available. Securely connect KNIME to your Dropbox via OAuth and easily access your files.
Private and team spaces: Go beyond your private Dropbox and ease the workflow within your team by also accessing files in your team's or organization's Dropbox.
Pick your files: Forget about Dropbox paths and just use our awesome Dropbox Picker to browse and select the files and folders you want.
Search your Dropbox: You can now search for any file even if you don't know its location.
How do you get them?
The Dropbox Nodes for KNIME are available on NodePit and can be installed via NodePit for KNIME. Just search for "Dropbox" and start the installation. Alternatively, add the following URL in Preferences → Available Software Sites → Add … and then go to File → Install KNIME Extensions.
https://download.nodepit.com/dropbox/4.3
Searching for more information? Browsing categories, nodes, and example workflows? Want to see the changelog? Check out the product page on NodePit:
Did we miss something? Let us know! Do you like what we're doing? Let us know! Do you have a cool use case which involved our nodes? Let us know! Do you want to support us? Let us know! We are happy to hear from you: mail@nodepit.com. N.B. We're not affiliated with Dropbox, Inc.
Cheers,
Philipp and Daniel